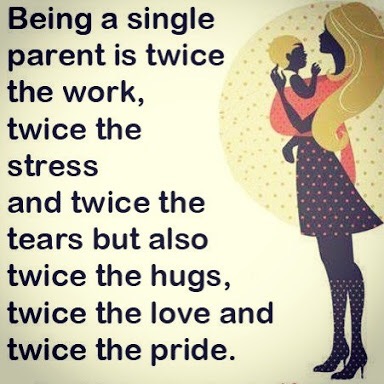 To all the single mothers out there,
This is a letter to you. I have been thinking about you so much for the past year. You're amazing! I take my hat off to you. What you do is amazing. And I don't think you get told this enough.
Every single mother I know is also a hard worker. Not only do you raise amazing children, but they respect you. And they always will. Because of what you do for them.
Society needs to respect you more and society needs to help you more. What you do for your family and for yourself, I look up to in awe.
I don't see inside your life. I don't see what's going on behind your closed doors. I don't see your tears. I don't see your heartache. What I do see is a strong woman. A woman that would move mountains for her kids. A woman that will fight for her rights. A woman that has been wronged. A woman that is lonely. A woman that seems contempt.
For all the single father's. I'm not singling out the mothers. I respect you too. I just don't know any of you personally. But what you do matters and it's admirable.
I am writing this because I feel people don't appreciate other people enough. People don't voice their appreciation. And I want to say you are appreciated. You are amazing. Not one day goes by where I do not consider what a single parent goes through or what a single parent does. And all the roles a single parent fulfills, all the roles a single parent plays. You're all amazing!
This is for the man/woman standing alone with their child/children watching everyone else. You have your problems and so does everyone else. These are the cards you have been dealt for whatever reason. But you know what? It's an amazing hand. It's a damn difficult hand to play but in doing so you're showing everyone else who's boss. And I wanna say YOU GO GIRL!! (or boy).
I want to tap you on your back and say well done, good job, keep at it. No, damn, I want to give you a hug. Because you, my friend, deserve many hugs.
On days that I feel weak. On days that I need inspiration I think of you and you make me strong. You help me find my feet. Because what you do is so amazing.