Now I know this doesn't look too yummy but I think it was rather good. Something very different, completely vegetarian and extremely healthy.
Yesterday I found myself searching around food websites for some easy-to-do recipes. I landed up making a combination of a few of them and this is how it looked.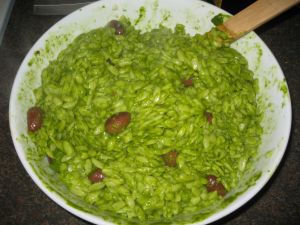 This pasta is a combination of spinach, basil, garlic, lemon juice, olive oil, olives and chili. Yummy!!
While searching through many recipes I came across some sites with good food and ideas on them.
Taste.com.au (a compilation of recipes from the following magazines; delicious, Vogue, Food Ideas, Good Taste, Simply Food, Notebook, and CountryStyle)