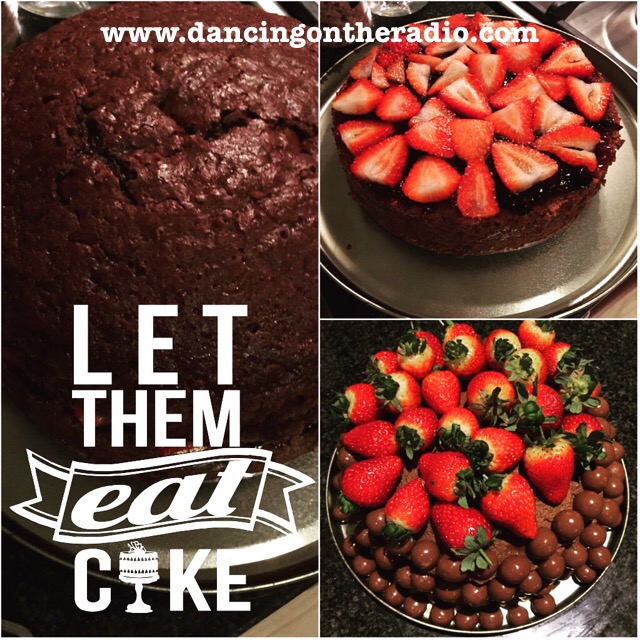 I made this super delicious looking cake last week for Matt's office in celebration of his birthday. It was apparently devine!
One guy actually said "this is not a cake it's a warm moist chocolate orgasm". My day was made!
I then posted the above photo onto my Facebook page and received a few recipe requests as well as people just asking me to make it for them.
So I decided to share my secret recipe. Please let me know if you baked it and how it turned out.
This cake has 3 parts:
The actual cake (my go to recipe for any chocolate cake I ever bake). This recipe has NEVER turned out dry or ever flopped. What's also super great is; the fact that you do not have to measure 100% accurately – guesstimates will do, you also mix everything straight into the dish your going to bake it in, you don't have to use any form of a mixer – a spoon will do, and it's a vegetarian cake too.
The middle layer and toppings.
The icing, which is a huge cheat to your normal icing. My cousin actually taught me to do this and I don't think I have ever made a traditional icing after I learnt the recipe for this one because it's so easy to do. By the way, I was really bad at making normal icing. I could never get the right consistency.
Ingredients:
1 1/2 cups flour (all purpose)
1 cup sugar
3 Tbsp. cocoa powder
1/2 tsp. salt
1 tsp. baking powder
1 tsp. white vinegar
1 tsp. vanilla extract (a little more if you're using vanilla essence)
5 Tbspn. vegetable oil (I just used olive oil)
1 cup water
Some berry jam
Fresh strawberries
Chuckles/whispers
250ml cream
200ml milk
Instant chocolate pudding
Method:
*Preheat oven to 180 degrees Celsius. Spray your pans before you start with spray and cook.
Mix the first 5 dry ingredients into a pan/glass bowl (whatever you want your cake to be shaped as or served from).
Make 3 depressions into the dry ingredients (1 big and 2 small). Pour vinegar into the one, vanilla into the other, and the oil into the biggest hole. Then pour the water over it all and mix together to form a nice smooth consistency.
Bake on the middle rack of your oven for 35-45 minutes. Check with a stick to make sure it comes out clean.
Note: baking times vary and baking time depends largely on your altitude. Be sure to check your cake to make sure it doesn't over bake.
**I made double this recipe (basically two pans and made the full amount in each pan to create my two halves of the cake). I also used pans with a removable bottom in order to get the cake out. It's a very moist cake so it does break quite easily. Wait till the cake is mostly cooled off before removing from the pans.
Once you have removed the cakes and cut off the top of the one layer to create a smooth surface for the other one to fit onto, spread a layer of berry jam onto the bottom layer and then thinly slice and place fresh strawberries onto the cake.
Place the top layer on top of the bottom layer. Now it's ready to ice.
For the icing;
Mix the instant pudding, cream and milk together with a beater for 1 minute or until it makes a nice thick paste.
And now, use this paste to ice the cake all around. Top it off with Chuckles or Whispers and some uncut fresh strawberries. And voila! It's done.
Dig in and enjoy! Don't forget to share this cake with your friends.