Todays stories are both to do with spending. A girls favorite thing? Well these stories are good examples of the wrong and stupid way to spend money!
How much would you pay for an OLD, ABANDONED house?
Joan Smith recently bid $1.75 for a house she had never even seen in Saginaw. Smith was one of eight people bidding for the cosy little cottage on ebay. I don't really know why she bought it and I don't think anyone else knows either as she says she doesn't want to move to Saginaw. She said she will probably sell it. If anyone will want to buy it. I guess it's a deal though.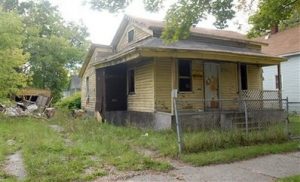 Human Skeleton anyone?
Just in time for halloween! Auctioneer Tim Richards found a human skeleton while going through furniture and boxes from New Castle. According to an anthropologist the skeleton died before World War 1 and was not murdered. Comforting isn't it? Urm, No! I don't think human skeletons should randomly be hanging around. Luckily neither did jane Harper who bought the skeleton for $500 and kindly donated it to the forensics lab at the University of Indianapolis. Lucky them!
Today's articles:
How much would you pay for an OLD, ABANDONED house?