I have decided to write a daily blog post on some interesting news as well a daily comic strip. This is quite a big commitment for me, but I think it's something that will be rather fun for everyone to read and for me to do. So I'll start today and try my best to make a post on this everyday.
Man caught at airport with 200 birds.
In Brazil this week a man was caught by customs with two hundred birds in his bag. 65 of the 200 Canary birds were found dead. The rest of the birds will be sent back to Peru (because that's where they are from) and the man in question will be charged by the Brazilian police for animal trafficking.
Worlds biggest puzzle.
The Germans claim to have the worlds biggest jigsaw puzzle, which consists of 1,141,800 pieces. The puzzle was built in the town Ravensburg and has been worked on by 15 000 people. It's hard to believe but the puzzle was put together in only 5 hours and almost covers the whole town square. The puzzle has been submitted to the Guinness Book Of World Records but has not been confirmed as the biggest in the world yet.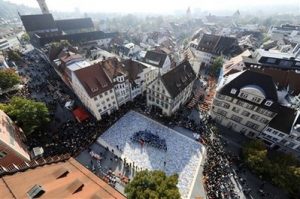 Daily Comic Strip

Today's Topics:
Man Caught at airport with 200 birds