"I no longer have patience for certain things, not because I've become arrogant, but simply because I reached a point in my life where I do not want to waste more time with what displeases me or hurts me. I have no patience for cynicism, excessive criticism and demands of any nature. I lost the will to please those who do not like me, to love those who do not love me and to smile at those who do not want to smile at me.

I no longer spend a single minute on those who lie or want to manipulate. I decided not to coexist anymore with pretense, hypocrisy, dishonesty and cheap praise. I do not tolerate selective erudition nor academic arrogance. I do not adjust either to popular gossiping. I hate conflict and comparisons. I believe in a world of opposites and that's why I avoid people with rigid and inflexible personalities. In friendship I dislike the lack of loyalty and betrayal. I do not get along with those who do not know how to give a compliment or a word of encouragement. Exaggerations bore me and I have difficulty accepting those who do not like animals. And on top of everything I have no patience for anyone who does not deserve my patience."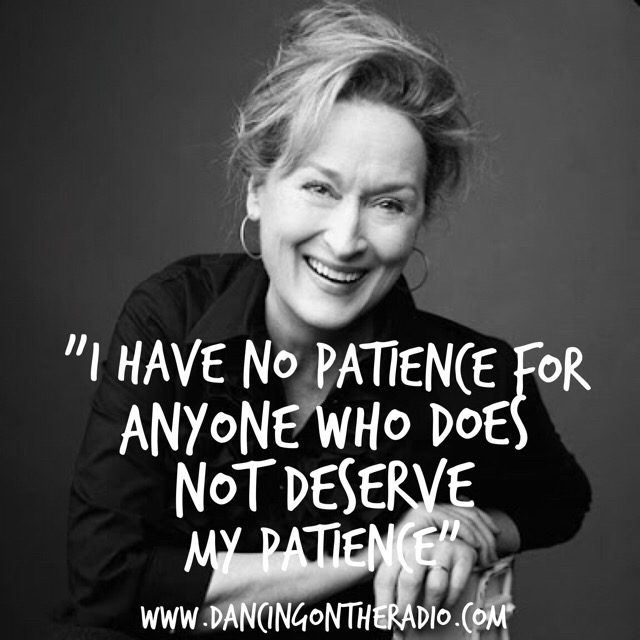 This quote went viral last year and was said to be a quote by Meryl Streep. It wasn't. The quote is in fact one from the Portuguese self help author and life coach José Micard Teixeira. After this quote went viral Teixiera became known as the "not Streep" internet celebrity. Meryl Streep or not, this quote is inspirational and one that really get's you thinking.
I consider myself lucky. To a certain extent I have never had time for anyone who lies and manipulates. From a young age I did not tolerate hypocrisy, and dishonesty. And I have come to despise academic arrogance.
This quote reminds me that life is hard enough without having people by your side to make it more difficult. Life throws everyone curve balls and we all have to find a way to deal with them. Cleansing yourself from people who cause more harm than good in your life is a lot easier said than done. It's difficult to rid yourself of people that you care for but sometimes it's for the best. Sometimes life sorts it out for you.
I have lost two dear friends of mine over time. I won't go into much detail about them but one just took and took without ever giving back and the other one's negativity and pessimism caused so much hostility in my own life. Don't get me wrong, to this day I still miss them and I wish that things were different and that they were still in my life. But, they were not good for me. They did not add positivity to my life.
So, I find myself reading this quote over and over and the lesson I have learnt is to surround yourself with positivity and rid yourself of anything that is not good in your life.