I was tagged (Sex and The Travelling Satchel) to show what's inside my current bag. I couldn't believe how much I could fit into a single bag and I'm sure you may find it difficult to believe too.
The Rules:
1. Post a picture of whatever bag you are carrying as of late. No, you can't go into your closet and pull out your favorite purse! We want to know what you carried today or the last time you left the house.
2. List how much it cost. And this is not to judge. This is for entertainment purposes only. So spill it. And if there is a story to go along with how you obtained it, we'd love to hear it.
3. Show us what's in your purse. Spill it out! Take pictures! Tell us what it is!
4. Tag some chicks.
____________________________________________________
So here it is. My bag.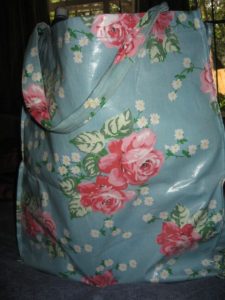 I got this bag for Valentines day from Matt. It's from Kitch and Kool. I had been eyeing it for ages (which Matt had no idea about) and he just thought it was kitch and I would love it. I think the bag was on sale for R60.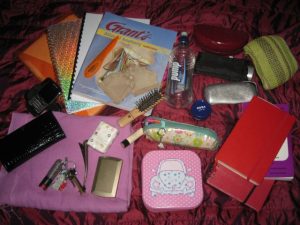 Contents:
Starting with the books on the Left side (at the top); Orange pocket folder with important studio stuff, Gold note book with class registers and timetables, another folder with dance info, Grants Atlas of Anatomy (need to study of by heart for my Pilates Teaching Qualification).
On Top of the books; a orange ruler/bookmark/paperclip thingy and dance paws.
The books in the right corner (at the bottom); a red notebook, my Moleskine diary and Shakespeare's "King Henry iv".
Left Bottom; a pink cashmere scarf that my cousin bought me, two phones, my purse, keys, a hair clip, pretty polka dot tissues, hair brush, blemish stick and compact face powder.
All the rest; a oh-so-pretty polka dot and beetle tin CD case, my pencil case, a water bottle, nivea cream, 2 glasses cases, my ever-so-small new black Accessorize umbrella and another little bag.
Lets take a closer look:
Contents of the little green bag (from left to right, starting at the top). Plasters, eye drops, emergency sewing kit,Honeysuckle refresher spritz, tiny travel perfume holder, tampon case, E. Funkhouser eye base, Mirror, painkillers, many hair clips and ties, lip ice (blue round thing), E. Funkhouser red lip gloss, Glitter eyeliner, red lipstick and eye gel from the body shop.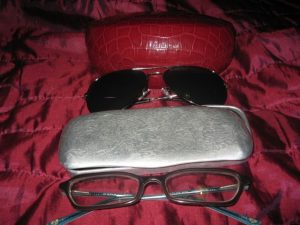 Red case to hold my Aviators and the beautiful silver case is for my brown, turquoise, and white glasses. You gotta love em.
Tagging:
SwissTwist (as I think she has beautiful bags)
And EVERYONE ELSE who would love to take part. Hope you have as much fun doing this as I did.