I have decided to re-read Louise Doughty's "A Novel in a Year" again and do all of the writing assignments in it too. In her book "a novel in a year", you do one writing assignment a week with the goal of writing a novel in a year. I'm going to try do more. And, I have decided to blog about my process. I will also, in most cases post my exercises up, sharing them with the world.
Please be nice! This is not easy for me to do. Writing is extremely personal and it's scary putting myself out there for criticism, but I have to do it in order to be able to reach my end goal of publishing fiction.
Opinions and advice are welcome. This is going to be a learning experience for me and a way of developing my writing style at the same time.
A little background into this book.
Louise Doughty started a weekly newspaper column asking people to take part and submit their writing. It became so popular that the column was turned into a book, and that's this one. It's a "how to" in the writing world.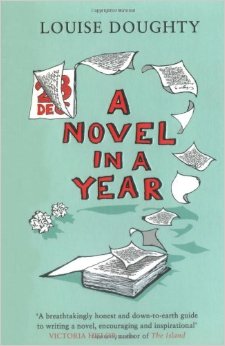 Despite the title, Louise does not promise that after a year you will have written a book or even have a good idea for a book, but you will be one your way. And even if you're not the writing exercises are fantastic to help teach you how to write and also to practice writing as a skill.
So here goes.
Exercise 1
The day after my eighteenth birthday my father told me…to pack my bags and go. At first I had a good laugh. My father was a funny guy. He was always full of jokes. So when he told me this, I assumed he was joking around.
He wasn't.
When I had been laughing and joking with my father for about five minutes, with no laughter in return I started to realise something wasn't right. My father, the joker in the family, hasn't as much as broke into a smile. He was staring back at me straight faced, much like a statue. He didn't move an inch.
"Come on dad, this isn't a joke" I remember saying to him. "I know sweet pea, it's not. I'm serious. And I'm sorry." he replied.
I remember how the words "sweet pea" were said as if they were a question. As if he was wondering if I would still be his "sweet pea" even after he kicks me out of the house. I remember the sadness in his voice, the horrible look in his eyes. Most of all, I remember my confusion. Till this day, 10 years later, I'm still confused.
My father and I were like two peas in a pod growing up. I was an only child, and a real daddy's girl too. My mother died when I was thirteen and my father did everything for me, including rushing to the shops (on more than one occasion) to buy me some lady goods.