A few months ago, I decided I needed to start journaling. Now, journaling is something that has always been romanticised in my mind. From when I was a little girl, I always wanted to keep a diary. I have started new diaries so many times in my life and every time it fizzles out into nothing. So, the idea of a line a day journal sounded like a great idea because that's so much easier than writing pages and pages of stuff every day.
How a line a day journal works
It's simple as it sounds. You grab a journal and for every day of the year you write one line. That's all. You can write about how you feel, something good that happened, something you or someone else said.
Why is this so great?
Well, once you've been writing down your line a day for a year you can start to compare what you did last year on the same day. You'll then be reminded of special things you did with friends and things that made you happy in previous years. It's such a clever way to be reminded of events in your life.
My plan of action
I started writing down a line a day in a plain journal with the aim to print a pretty journal for myself which has a 5-year layout. I also thought that this is the perfect gift for friends and family too. But, over time I started hiding the journal from my kids as Hayden would carry it all over the house and Lilah thought it would be a fun place to draw. And in the process, I forgot to to write in it every day.
So, I have now decided to do my line a day journal in Evernote. I love Evernote and use it for just about EVERYTHING! I can date my journal entry and just add another line every year. So, it would look something like this. Today will be the first day I start journaling a line a day on Evernote. I already know this is a great idea and it will be super easy to update because I can simply search the date in Evernote next year to add another entry.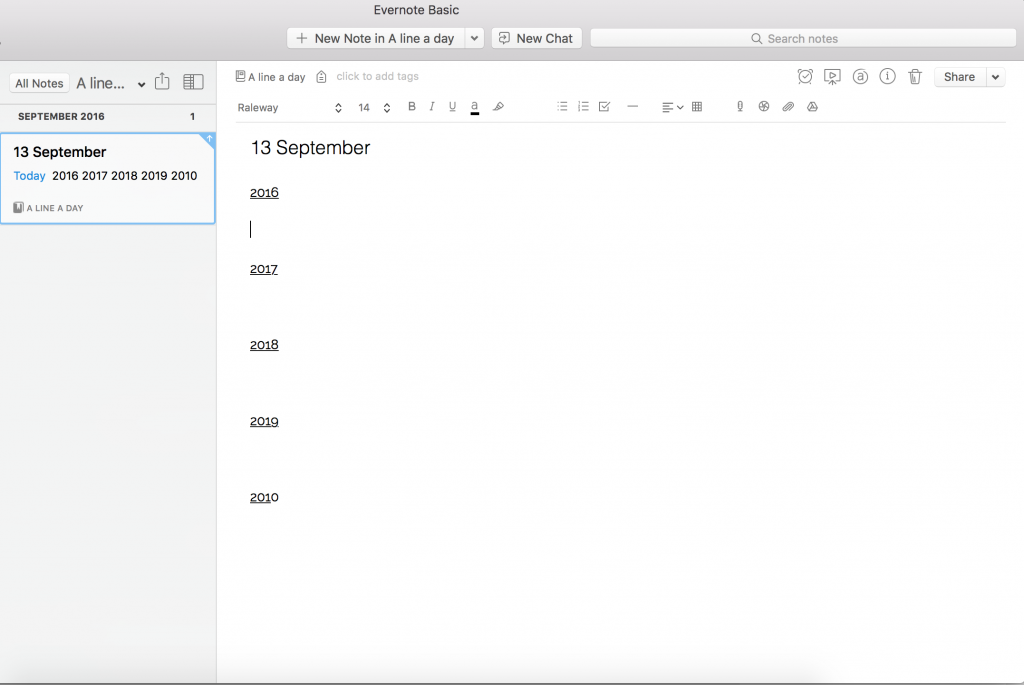 Do you journal? If not, I challenge you to start a line a day journal. They say that journaling is healthy and all that stuff. Give it a try.