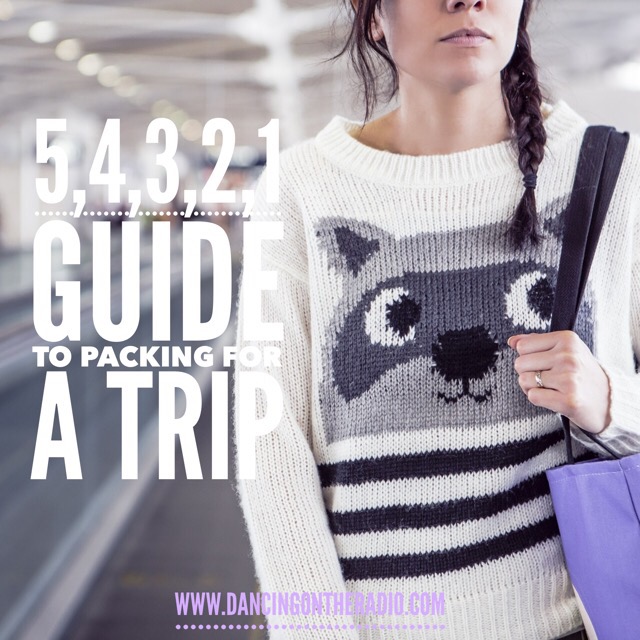 Whether you're going on holiday or on business packing for the actual trip is an important part of your preparations. The last thing you want is to be underprepared or schlepping along a huge bag full of clothes that you land up never even wearing (I'm guilty of this). So, when packing you need to always pack prepared. Know what and where you are packing for and then follow the 5, 4, 3, 2, 1 rule when packing for any trip longer than 3 days.
3 Things you need to take into consideration:
the climate

duh!! Is it hot or cold? Raining or snowing? This is probably the most important thing to consider when packing.

where are you going?

Are there specific cultures to take into consideration? Will you be in a city, at the beach or the bush. These factors all influence what clothes you will be packing.

what will you be doing?

Are you going for business meetings where you will be spending most of your time in boardrooms? Or, will you be going on a safari or sightseeing through a big city. This is also super important because you cannot walk around in heels while in the bush.
The 5, 4, 3, 2, 1 rule
This rule is perfect for the frequent traveller and the not so frequent traveller. It works great as long as you always keep the above points into consideration. Always consider the climate, where you will be going, and what you will be doing. By keeping these point in mind and following the rules below you should be prepared for anything.
When choosing your items to take with consider dressing up and dressing down options too. The example below is for summer/autumn/spring.
5 Tops

Choose 5 tops that will go with all the other items you will be packing. Consider camisoles, scrappy tops, a t-shirt, a 3/4 top, and a light long sleeve top for chilly days.

4 Bottoms

Now add in 4 bottoms, including shorts, skirts, and jeans (obviously dependant on your trip). Make sure they match the rest of your items.

3 Dresses

Dresses are great but they do limit your mixing and matching options so limit dresses to maximum of 3. Keep in mind that they must match your accessories and shoes, as well as your jacket or coat.

3 Pairs of shoes

This is a tricky one. We always get stuck here. When choosing shoes it's always best to pack the most comfortable, yet still practical shoes that you can. Usually when travelling flats are better than heels so choosing a pair of fancier flats instead of heels is something you should consider. So what shoes should you pack? Firstly, a pair of sandals or pumps (that can be causal or semi-formal), a comfy pair of shoes that you can do a lot of walking in, and a pair of heels if you really think you might be needing them (don't pack your highest stiletto's either, go for a practical pair of heels).

2 Swimsuits

If you're going on a summer holiday then you need 2 costumes. Any more than that is a waste but with two you will always have one dry costume when you need it.

2 Bags

A big one, and a small one. The bigger one will be the bag you use while travelling too. This can be a backpack or a tote (something that can carry all your important things like your laptop, iPad, stuff you'll need on the plane, and one you can take with when you go shopping). A smaller bag for dressing up, going out, or any occasion where you won't need to carry as much. Choose two different coloured bags and match the bags to your shoes too.

1 Hat, 1 watch, 1 pair of sunglasses, 1 umbrella, 1 pair of gloves, 1 jacket/coat, 1 light jersey

Limit your accessories. Often we want more to have "options" but you'll only land up wearing one of each of these most of the time in any case so pick something that goes with all of your clothes and shoes. I also usually throw this into my carry on bag as airports and planes sometimes get chilly.

unlimited underwear, socks, jewellery, scarves

Ok, not unlimited but definitely more than the rest of your clothes. These are small items and they can be squished into shoes and into the little nooks and crannies of your bag. Scarves are also a great way to change up an outfit so bringing a few different colours and styles along creates a lot of versatility. Jewellery is also something that you can bring a lot of with you because it's so small, however I never use everything I bring so in the future I will try to stick with only a few pieces that can be used with every outfit option.
Now, I know this sounds like very little but think of the positives – you will be travelling light, have a lot more space for shopping, and you will be less likely to pay overweight on your way back when you would have bought memento's from your trip.
In any case with only these few items you can easily create 15 different looks simply by mixing and matching, so rather master the art of mixing and matching than carry yourself silly on items you most probably won't even wear.