I just loved reading The Girl You Lost by Kathryn Croft. It's the first book of hers that I've ever read and it definitely will not be the last. I have already added all of her other books to my wishlists on both Audible and Amazon.
BASIC BOOK INFO
Title: The Girl You Lost
Author: Kathryn Croft
Genre: Mystery/Thriller
ABOUT THE BOOK
Month I read it: April 2017
Format: Audible
Cost: 1 credit
Thumbs up/down: Thumbs Up
Rating: 9/10
What i loved: I loved the story line. I loved the unpredictability and the fast pace.
What I hated: I hated the ending, even though I thought it was brilliant.
My favorite part: I honestly can't choose a favorite part. This book has so many good parts.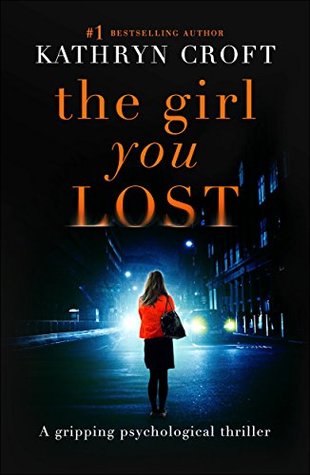 BEFORE READING The Girl You Lost
What is my first impression of the title, the cover, back cover blurb?
The title had me intrigued from the beginning. I also found the book cover to be very similar to other books of it's kind and so, a winner. Great book blurb and it immediately left me wanting to know what happens in the book.
What does the book structure reveal?
I think, it's an easy read but there are parts of the book that may not be suitable for sensitive readers (rape and violence).
WHILE READING
What was my initial reaction to the book? 
I was hooked from the first chapter. I just wanted to know what was going to happen all the way through.
What was my favorite quote/passage?
"You can't erase the past but you can make sure your future isn't dictated by it"
Did I find any themes throughout the book?
Misguidedness
Lying
Which character did I like the most?
Simone
What three words would I use to describe the book?
Traumatic
Twists
Shocking
Who do I see playing the characters roles in a movie?
Simone – Ellen Pompeo
Helena/Grace – Lucy Hale
Matt – Ryan Eggold
Abbott – A young Shaun Connery
Charlotte Grey – Ashley Benson
Tamsin Grey (Charlottes mom) – Jessica Capshaw
Lucas Hall – Sullivan Stapleton
Ginny Rhodes – Charlize Theron
Did I know? How did I know?
No, I didn't. This book was filled with twist after twist. It was fantastic, Some things I did predict but definitely not what happened to Grace.
How did I feel about the ending? 
The ending left me wondering still, if it could be true.
What does the story do best? 
The plot is fantastic. It also really makes the reader like characters that they possibly shouldn't or possibly should.
What type of reader would be interested in this book?
If you love a good psychological thriller then this one is for you. If you liked books like Gone Girl/Girl on a Train with unreliable narrators then this one is for you.
WANT TO BUY THE BOOK?
MORE REVIEWS