Today I'm going to be talking to you guys a little bit about The Storyteller by Jodi Picoult. This is officially one of my all time favourite books. I loved this book. It's one that I can read every single year.
A few quick facts
Jodi Picoult has published 27 books
Jodi's favorite of all her books is Second Glance and Small Great Things
Things you may not know
It takes Jodi 9 months to write a book
And, she will often work on more than one book at a time
Jodi got the idea for the book The Storyteller from a book by Simon Wiesenthal THE SUNFLOWER.
Her favorite author is Alice Hoffman
BASIC BOOK INFO
Title The Storyteller
Author Jodi Picoult
Genre Historical Fiction
Target audience Women
ABOUT THE STORYTELLER BY JODI PICOULT
Month June 2017
Book The Storyteller by Jodi Picoult
Format Audible
Cost 1 credit
Thumbs up/down Thumbs Up
Rating 10/10
What I loved Everything! Absolutely Everything!
What I hated Nothing! Actually, I hated not hearing the end of the story of Anya and the Oopior
My favorite part I honestly don't think I could choose one point. I loved the parts written during the concentration camp. I loved listening to the story and how much a story/distraction of a story can help people through unimaginable times.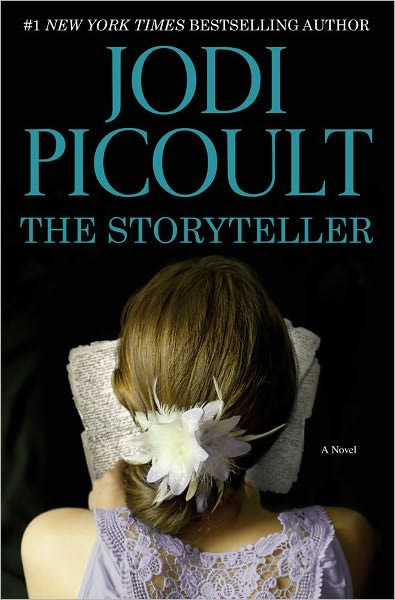 BEFORE READING
What is my first impression?
I Didn't know what to expect. Because I love to tell stories too, I loved the title but I didn't think it had anything to do with WW2, obviously a great surprise for me.
WHILE READING
What was my initial reaction to the book?
I was interested and loved the names of the sisters Sage, Saffron, and Pepper but I wasn't completely hooked until the story went further into history.
What was my favorite quote?
My mother used to say "if you turn a tragedy over in your hand, you can see a miracle run through it like fools gold in the hardest shard of rock"
Did I find any themes throughout the book?
Survival
Which character did I like the most?
Anya
What three words would I use to describe the book?
Heartbreaking, Survive, Redemption
How did I feel about the ending?
It was an interesting ending and one that showed that we are all human. Sage made a huge mistake, but we are still left with the question. Is it wrong?
Any major emotional responses to events in the story?
I was captivated and found myself mesmerized throughout the book but when Anya died and when Sage said at the funeral "I want to be as brave as you" I found myself crying.
What does the story do best?
It tells 4 stories at once. The story of Sage, The Story of Anya, The Story of the Oopier, and The story of the German boys/soldiers.
What type of reader would be interested in this book?
Everyone! (joke) Anyone that loves WW2 fiction. Jodi Picoult fans too.
What is my biggest takeaway from the book?
We are stronger than we would ever imagine. We will never know how strong we can be either until we are put into unthinkable situations. Being humane and caring is a gift, one I wish to never loose.
Last Thoughts
This is most probably my new favorite book. I could read this book over and over again. I loved it.
WANT TO BUY THE STORYTELLER BY JODI PICOULT?
MORE REVIEWS