I have some fantastic news. My book WRITE A NOVEL IN 30 DAYS is on a Kindle Countdown deal this week (19 Feb – 23 Feb).
You would really do me a favour by buying it. And, the best part is it's cheaper than a cup of coffee.
Let me tell you more about the book
This book walks you step by step through planning your novel to writing your novel. This book is full of personal stories, tips, and exercises to inspire you and to help you write your novel. This book is honest and realistic with an easy to follow step-by-step approach to writing a book.
This book is for the writer who wants to follow their dream of completing a book but doesn't know where to start or where to find the time.  This is more than just a book about writing, this is a book about surviving the writing process.
THE BOOK IS DIVIDED INTO FOUR MAIN SECTIONS:
01 | THIS IS YOUR DREAM
This section is all about discovering yourself within the writing world. It's about getting over your insecurities and creating your dream writing life.
02 | PLAN IT ALL OUT
This section teaches you to plot and plan your book. From time scheduling to discovering ideas and writing applications and resources.
03 | WRITE IT OUT
This section covers the actual writing process that happens.
04 | WHEN THINGS GET TOUGH
This is a survival guide to writing. This section of the book handles everything from writers block to loss of inspiration and falling behind schedule as well as when you're getting yourself down too.
BONUS MATERIAL
This is not called an interactive book for no reason. This book comes with access to a resource library of downloads like; word trackers, worksheets, charts, and checklists.
And you will get a 28-day course to get you ready for writing.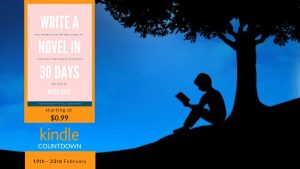 The greatest compliment you can give me is to recommend my book to someone you know.