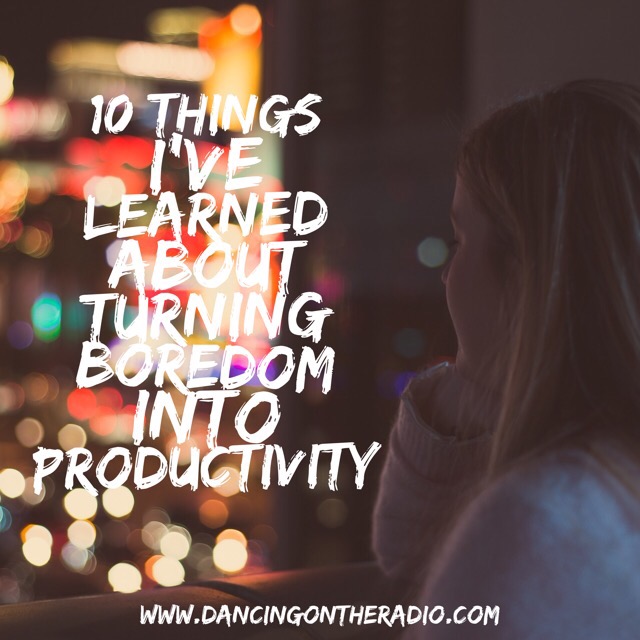 Instead of surfing Facebook for the 5th time how about you use your time productively. There are so many things you can do when you are bored that you will definitely thank yourself for later.
Take a walk

There's nothing better than fresh air to get your creative juices flowing or even just to clear your head.

Dance

Like no one is watching. Not only is dancing fun but music relaxes you and it's a fantastic workout.

Write a Thank you note

Thank you notes is not something that is done as much as it was in the past, so it's a super special gesture and will most probably be a huge surprise to the person receiving the note.

Call a friend you haven't spoken to in a while

Again, this will be a lovely surprise to your friend. We call each other way too little as sending a quick message is so much easier, and more often than not quick and convenient.

Clean out your car

All those paper wrappings, water bottles, and in my case work documents and toys. Clean it all out. It will make a huge difference to the appearance of your car.

Go through all the photo's on your phone

One of the benefits of technology is the fact that we can take as many pictures as we want of one single thing or moment in order to get that perfect shot. But this means that we often have tons of duplicates, blurry, or just plain unused photos taking up space on our phones. Go through your phone and clean it up. Delete the photo's you do not want anymore.

Clean up your computer

I try to keep my computer filing system as clean and user friendly as possible but once in a while a clean up is still needed and every time I do so I'm shocked at what a mess it actually is.

Write a letter to a friend

Email or posting any letter to a friend is special. When you were in school writing letters was normal and as you get older this simple but meaningful habit falls away and gets replaced by full inboxes, and too many phone messages to read. I can guarantee you that if you write a hand written letter or even a truly personal email (let's face it email is easier) it will be read, it will be appreciated, and it is something so special that will also not be forgotten. Who knows you may even receive a letter in return.

Clean out your closet

We all need this. The best way to do this is by making piles for items you want to keep, throw out, and donate. It's a great exercise which will not only free up closet space, but you will also land up making someone else's life better by donating clothes to them too.

Do some stretches

Stretching and breathing can be extremely relaxing and most people do not stretch nearly enough. So do it. Do it as much as you can. Stretch, NOW!