Firefly Lane by Kristin Hannah is a book that sadly left me wanting more. This is the second novel I have read by Kristin Hannah and in all honesty I think that reading The Nightingale first spoilt this book for me because it set such high expectations.
Here is the full book review video and I have given a summary of the video down below too.
A few quick facts about Firefly Lane by Kristin Hannah
Kristin Hannah has been writing for 30 years
It takes her a 1 -2 years to write a book
She has written over 20 novels
she's a former lawyer turned writer
Things you may not know about Kristin
Kristin Hannah's guilty pleasures are Cosmos and Massages
wears her mom's engagement ring on a chain around her neck as a good luck charm
When she was a little girl she thought she would grow up to be a ballet dancer
Into the book
Title: Firefly Lane
Author: Kristin Hannah
Genre: Women's Fiction
About the book – Firefly Lane
Format I read it in: Paperback
What i loved: I loved the story idea
What I hated: It felt like it was really drawn out (it could have been shorter and sweeter)
My favorite part: Must be when Tully buys Kate the notebook so that she can tell her story
Before Reading
What is my first impression?
Cover: Liked
Blurb: Sounded interesting but it didn't sound particularly special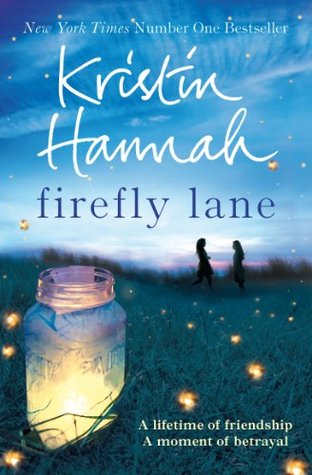 While Reading
What was my initial reaction to the book? 
I was excited. Having read The Nightingale I had high expectations. But, it was a difficult book to get through. It took me a really long time as I kept starting new books and putting this one down.
What was my favorite quote/passage?
"It's never good to sit around and wait for someone of something to change your life."
Did I find any themes throughout the book?
Mistrust- especially from Kate's side
Which character did I like the most?
Johnny
What three words would I use to describe the book?
Friendship. Mistrust. Tedious.
Who do I see playing the characters roles in a movie?
Diane Keating (Mrs Mularky)
Diane Lane (Katie)
Nicole Kidman (Tully)
Richard Gere (Johnny)
Did I know? How did I know?
I didn't. I thought Johnny would cheat on Kate.
How did I feel about the ending? 
The ending was my favourite part. I was full on ugly crying. It was so real, and so sad.
What type of reader would be interested in this book?
If you're interested in books about friendship and real life, this one is for you.
What is my biggest takeaway from the book? 
Life is short. We only live once and to try live a full life. One without regrets. To do everything you want to do.
Last thoughts
I wish I could have loved this book more, but I just didn't until the end.
Rating
Thumbs up/down: Sadly down
Rating: 4/10
Want to buy the book?