Today I'm going to be talking to you guys a little bit about the book Look Again by Lisa Scottoline
A few quick facts about Lisa Scottoline
Look Again was named one of the best books in 2013
Lisa graduated from the University of Pennsylvania
Things you may not know
Lisa believes in writing what you know
So, she puts a lot of herself into her books
Lisa has written 28 Novels
Lisa also reviews both fiction and non-fiction books
BASIC BOOK INFO
Title Look Again
Author Lisa Scottoline
Genre Thriller
ABOUT THE BOOK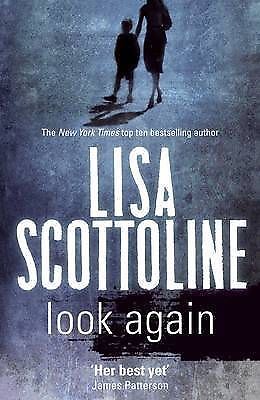 Month May
Book Look Again by Lisa Scottoline
Format Paperback
End Date 3 June 2017
Cost R60
Thumbs up/down Thumbs up
Rating 8/10
What i loved I loved the storyline. I hate the idea of losing a child so this story struck home.
What I hated I hated how flakey she was with her work, missing deadlines and not caring if she lost her job, even though she wouldn't be able to support her son if she did.
My favorite part I loved the suspense of when Mrs Braverman came to her house while the kidnapper was there.
BEFORE READING
What was my first impression of the title, the cover, back cover blurb?
I was drawn to the size of the book. It's rather larger than other books so it stood out to me on the shelf. I liked the feel of it in my hands. I also liked the vague name and cover and the blurb just got me even more hooked. However, I bought the book and only read it two years later.
WHILE READING
What was my initial reaction to the book? Did it hook me immediately or did it take me a while to get into?
I got straight into this book. From the moment Ellen received the white missing persons paper, I was hooked.
What was my favorite quote/passage?
How do you keep something that doesn't belong to you?
Did I find any themes throughout the book?
Confliction. Fear.
What three words would I use to describe the book?
Scary. Devastating. Truth.
Did I know?
I din't know. The twist at the end was a good one.
How did I feel about the ending? What did I like? What didn't I like?
I was so happy that Ellen got to keep Will. It broke my heart when he was taken from the only mother he had ever known.
My major emotional responses to events in the story
I was full on crying when Will was wretched out of Ellen's arms in the hospital. I couldn't imagine going through something like that.
What does the story do best?
I feel that settings could have been described a little more in detail, however I don't think it takes anything away from the book.
What type of reader would be interested in this book?
If you love a good psychological thriller then this one is a good read.
What is my biggest takeaway from the book?
You don't have to be of blood to consider yourself someone's mother. However, that blood bond is also incredibly strong and a mother will forever hold on to her child. I also think that no mother should ever lose a child. It's devastating. Mother's will do anything to save/protect their children.
WANT TO BUY LOOK AGAIN BY LISA SCOTTOLINE?
MORE REVIEWS