Today I'm going to be talking to you guys a little bit about The Night Circus by Erin Morgenstern.
A few quick facts
The Night Circus was first published in 2011
Erin really started writing seriously in her mid-twenties
Things you may not know
Erin has no formal writing training
She does not write every day, she refers to herself as a binge writer
She writes in Scrivener or with a fountain pen on unruled paper
The Night Circus started off as a NaNoWriMo book (which is an online event held every November)
BASIC BOOK INFO
Title The Night Circus
Author Erin Morgenstern
Genre Fantasy
ABOUT THE BOOK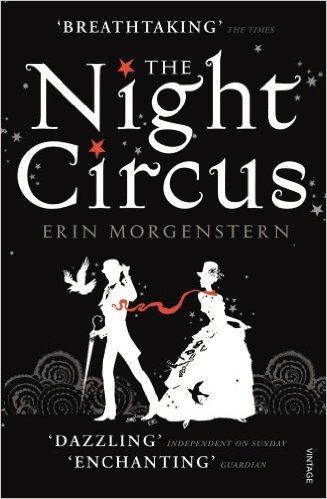 Month May
Book  The Night Circus
Format Audible
Cost 1 Credit
What I loved I loved the unusualness of the circus. The black and white, the fact that it was held at night, and the dinners.
What I hated I hated the game
My favorite part My favorite part is when Celia and Marco first realize they are in love during their walk through the house.
BEFORE READING
What is my first impression of the title, the cover, back cover blurb?
I was drawn to the book long ago already because of the cover. The name was also intriguing.
WHILE READING
What was my initial reaction to the book? 
I was super interested, however I did find my mind wondering off and not being able to focus on the book itself.
What was my favorite quote/passage?
"People see what they wish to see"
"The finest pleasures are always the unexpected ones"
Did I find any themes throughout the book?
Secrecy
Which character did I like the most?
Celia Bowen
What three words would I use to describe the book?
Secretive, Intriguing, magical
Did I know? 
I didn't know how they would overcome the game and be together.
How did I feel about the ending? 
I liked the ending but I felt it needed a little more, of what though, I'm not sure.
What does the story do best?
The story descriptions were the best to me. I also felt that the writer kept you far away enough from the story but close enough to fall in love with it.
What type of reader would be interested in this book?
Readers who love Fantasy, good literature, or just a book to get lost in.
What is my biggest takeaway from the book?
The world is not always as it seems.
Last Thoughts
This book was a magical read. It's one you get so entangled and lost in. This book will stay with you forever!
Rating
Thumbs up/down Thumbs up
Rating 9/10
WANT TO BUY THE NIGHT CIRCUS?
MORE REVIEWS